Today we took a drive in a van loaded up with all instructors and students. We visited a bunch of breweries and a few castles. First up Alchemy brewery. I is on a horse farm out of the city.
It is a 10 BBL system. They brew 5 times a week.
They do mostly cask beers. They do some keg beers and I found the disposable kegs below interesting.
Next we looked at a castle. Some of the Harry Potter movies were filmed here.
Next we visited the VIP brewery which brews on a small system that was very interesting.
If you click on this photo, it will get larger.
Next up is the Castle Brew house. It is associated with the VIP brewery.
Of course it is across the street from a castle.
Last stop The Ship Inn. A quaint little place on the ocean.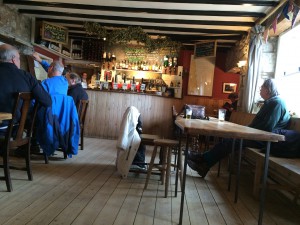 With an interesting 2 BBL brewery made from Grundy Tanks.
This is a grundy tank.
Quite a complex home made system. Love it.
Click photo to enlarge.
And the cask washer is also home made. He did a great job on the brewery and the beer was pretty damn good.
I'm off on a two week break. As I type this, I'm on a London bound train. I'm