Here is my favorite photo of real ale. I found the photo in a gun magazine and sent an email to its' editor and he sent me a high resolution file to use to print a photo. No idea of the date, but look further down at my next item. it is dated 1828. and the photo handpulls look very similar.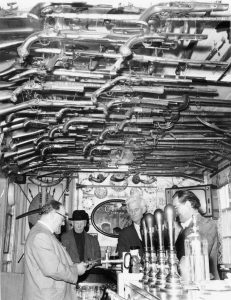 Here is a 'piece' of a beer engine that I picked up on Craigslist. This is before I cleaned it up.
Here it is after I cleaned it up.
Take a look at the date on this.
Here is what remains of what I think is an older engine. I found this on eBay.uk an had to have it. It is now a wall hanging. The pump still pulls air. Click for a larger picture.
The best I can find out about W.R.Loftus is this blurb off from the author of pewterbank, which is a great pewter site, He found it on another Pewter site called pewtersociety.org in the members area.
W R  LOFTUS LTD

Successor to

 William Robert Loftus and the family-run company which continued in his name (until c.1900) after he died in 1887, it appears it probably originated with the partnership of sons 

William John Loftus and 

 Henry Barham Loftus following youngest son 

 Victor's death in 1899 (in essence, Wm John would have taken over Victor's previous role as Wine Merchant of that Division). This was a firm with many interests, specifically focused in the making of instruments involved with the manufacture of wine, spirits, and ales. The Wine Merchant business appears to have ceased with Wm John's passing in 1916. By 1936 they are recorded mainly as Bar Fitters in the London Phone Book, still at 18 Tottenham Ct, which continued into the 1960s except for a move to 1 Charlotte St. The last recording found for the company is in the 1981 London Phone Book, where it appears the company came full circle and returned to their origins as 'Wine Making and Home Brewing Suppliers'. It is unclear whether the company was closed or was absorbed into a larger firm.
The company was in business for a long period. I have some trouble believing that the item is from 1900ish. I also don't think it is newer than the 1928 item above either. The handles of the 1928 item is made of Bakelite ( or a similar substance ). This items handle is all wood.
Here is what the seller of the item on eBay had on the listing:
"This is a fabulous and incredibly rare vintage W. R. Loftus beer pump. I am unsure of its age but as you can see from its design and construction it is of wonderful quality and construction and made in a time of great production values. It has been in storage for some time and certainly has signs of this but is in reasonable shape. There is a little wear etc to the wood of the handle. The metal work which will be on display above the bar could do with a polish but doesn't have any major issues. There is a little light rust to some of the fixings etc which will be below the bar. I have not tested it with liquids but there is an air flow when the handle is pulled so the pump does appear to be working. It will certainly need a very good clean before use. The hoses have been cut off as shown but can easily be replaced. It will be removed from the plank shown for postage and I will remove the central bolt so it ships in two parts to reassemble."
I will be adding photos of my beer engines as I have time.