The second stop on my two week break was in Wales in the town of Brecon in the middle of some very beautiful mountains.
The brewmaster, Buster was a great host. I helped fill a few firkins and then took a ride up to an old mining town in wales called Rhymney, to get some supplies. Here are some photos of that brewery.
Here's a pano shot. Click to see a big photo.
The next day I rode with Buster to drop off some high alcohol beer he brewed for a micro distillery called Da Mihle It was an amazing place. Here are some photos of that visit.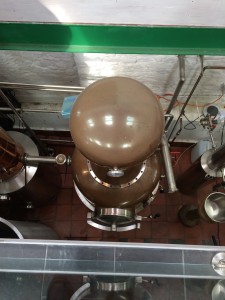 Oh, Did I mention that they also made cheese?
I had a real blast in Wales and I thank Buster for the great places he took me to and explained so much of the cultural history and sights.