Where I brewed until May 2017.
Here's an older photo of the firehouse: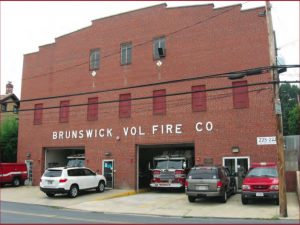 The sign just got painted.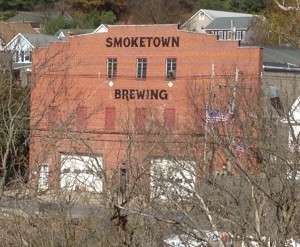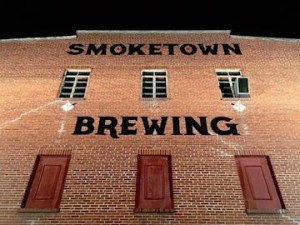 It's a good sized facility with a really big upstairs auditorium.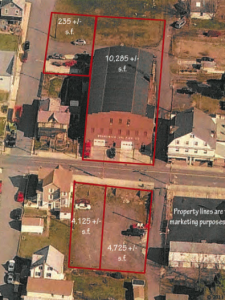 The lower outlined blocks are the parking lots.
A photo of opening weekend.
April 2016
Smoketown is almost completing its' first month of serving beer. We've been doing pretty good. We have had a good turn out on the four days a week we are open and have had good reviews from social media so far. I think we are delivering a quality product in a quality setting. Next Saturday, April 30th we will have our official grand opening. I hope to have a 4.5% ABV stout on the beer engine for that in addition to five other beer that we have a good quantity of.
April 30th 2016
We had great grand opening with a ribbon cutting. I had my first real Ale on the hand pull. Sold out before it went south.
September 2016
Our Brown Ale (called Berlin Brown) won a gold metal our Belgian Triple took a silver in the Maryland Brewers Association sponsored 'Maryland Comptrollers cup.
November 20,2016
Just sold out of our first barrel aged porter called Walter's Spirits
Finished the 3rd batch on our 7 BBL system. Will be carbonating in the fermenter for the first time in a few days.
I'm enjoying the building out the brewery. Many little projects to do. Electronic temperature controller for the glycol system. Repurposing some CO2 control units for carbonation.
Greg Nichols is now working as assistant brewer and has come up with some great organizational ideas and some very good logical, practical solutions to problems. His first beer was the Black IPA called Smokestack IPA.
January 2017
At the end of the year we filled four barrels with a porter. We'll age them for four months and again we'll have Walter's Spirits, hopefully north of 10% ABV.
Brewing is truly a continuous learning experience.
February 19 2017
Here are some photos of what we are working toward for the upstairs of the brewery
Click to make the images larger.
Pretty cool. The first image is of the back of the building.
Hope to be using the upstairs by July, that's our goal anyway.
Here's a recent photo of work done on the outside.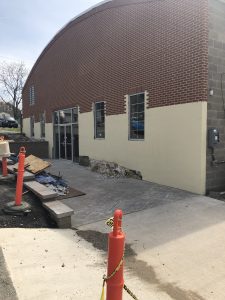 We also got new doors on the firehouse:
May 6, 2017
The Walter's Spirits mentioned above came out great. I have emptied 2 of the 4 barrels and put them in Kegs. One Barrel is gone already and the second is just starting to be sold. I put our stout called Tiny Tank into the first barrel to be aged for a few month and will put a double IPA into the second barrel.
May 16th (-ish), 2017 (this was written February 10, 2018)
Guess I should complete the ending of my time at Smoketown.
I was in the habit of sending out a monthly email to the staff where I talked about different stuff, mostly beer. Here is my final email to them:
________________________________________
Hey Guys,
A slightly different brew note this time.

I just posted this on Facebook:
A quick note to my Smoketown friends. Dave (the majority owner) and I have differences in beer philosophies and I have decided to move on. While I am still an investor, I am no longer the brewer there. I really enjoyed meeting all of the customers and employees and will miss our conversations and interactions.

I want to say that I enjoyed my time with you at the brewery and I will miss working with you. I might not have shown it at times but I was proud of what we'd accomplished over the last many months. I hope my actions helped you learn and understand beer in a way that you maybe even have a slight passion for it.
Many of you were not all that aware of beer when we started this, but you've done a great job picking up what is expected by the public in a micro brewery. 
Mitch
________________________________________
It was quite an abrupt ending. Didn't really expect it. I guess I was rubbing Dave the wrong way a bit. He came in one morning and said  "we need to talk". I said "OK, whats up?" I'm paraphrasing from here forward. He felt it didn't seem to him that I was behind him and his vision of what Smoketown should be and he wanted me to trade places with the assistant brewer Greg. I trained Greg to brew. I was kind on thrown back a bit, I mean, How insulting? Of course I said, well, I'm done here.
Having said that, I hold nothing against Greg. It is odd having the student replace the teacher, but I am all about beer education and beer success. Greg has done a great job and it seems he really paid attention to what I was saying. He's making great beer.
In June I agreed to be the brewer at Dragon Hops Brewing in Purcellville. You can follow my antics there in the pull down link above.