We went on an outing to visit the bottling plant then we visited this brewery in the same town.
Here's the Old mill that they don't use anymore.
Here's the 'New' mill.
Here' a serious copper (boil kettle).
A look inside.
This gauge tells you how much liquid is in the kettle.
It's analogue. Notice the cable coming out of the copper. It's a pulley driven gauge.
Here's an old heat exchanger. The inside was cooled with water and the wort ran down the outside of the cooler.
These valves were how you got the sweet wort out of the mash tun.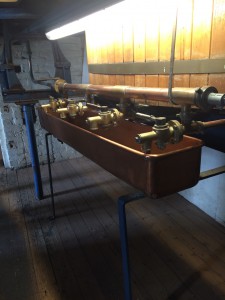 Hops at the ready.
Our guide takes us into the fermentation room.
Then they took us down into the pub to let us see what they made there.